Leading Members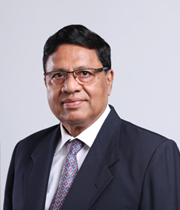 Anand Srivastava
Research Interests - Digital Communications, Wireless and Optical communications, Optical Networks.
Bio - Anand Srivastava did his M.Tech. and Ph.D. from IIT Delhi. Before joining IIIT Delhi, he was Dean & Professor in School of Computing and Electrical Engineering at Indian Institute of Technology Mandi, HP, India and also Adjunct Professor at IIT Delhi. Prior to this, he was with Alcatel-Lucent-Bell Labs, India as solution architect for access and core networks. Before joining Alcatel Lucent, he had a long stint (∼ 20 years) with Center for Development of Telematics (CDOT), a telecom research center of Govt. of India where he was Director and member of CDOT Board. He was also closely involved with ITU-T, Geneva in Study Group 15 and represented India for various optical networking standards meetings. His research work is in the area of optical core & access networks, Fiber-Wireless (FiWi) architectures, optical signal processing, free space optical communications and energy aware optical networks.
---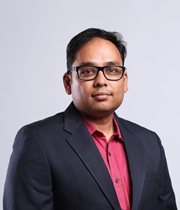 Vivek Bohara
Research Interests - Device-to-device communication, Visible Light Communication, Hybrid VLC-RF architecture, Proof-of-concept testbeds and experimental validation.
Bio - Vivek Ashok Bohara got his PhD in electrical and electronics engineering from Nanyang Technological University, Singapore in 2011. Currently, he is working as an Associate Professor at IIIT-Delhi. His research interests include cognitive radio, cooperative communication and designing digital predistortion algorithms for wideband power amplifiers. During his doctoral research at Nanyang Technological University, Singapore he designed and implemented a prototype WiFi module (IEEE 802.11a) and mobile WiMAX system (IEEE 802.16e) on reconfigurable NI modular instruments as well as on Lyrtech SFF software defined radio platform. For his work on Mobile WiMAX he has awarded 1st prize on 2010 National Instruments ASEAN Virtual Instrumentation application contest. During his tenure as a Post-Doctoral researcher (Marie Curie Fellowship) in ESIEE Paris, University Paris-East, he was actively involved in designing and implementing critical blocks for cognitive radio (CR) transmitters.
---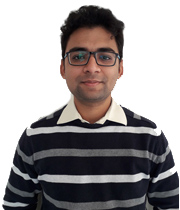 Gourab Ghatak
Research Interests - Stochastic geometry, millimeter-wave communications, 5G network planning, and positioning in 5G.
Bio - Dr. Gourab Ghatak has received the B.Tech. degree from the National Institute of Technology Durgapur, India, in 2013, and the M.Tech. degree from the Indian Institute of Technology Kanpur, India, in 2015. He has obtained his Ph.D. degree with a thesis on multi-RAT 5G networks in CEA-LETI, France, and in Telecom ParisTech (ENST), France in 2019. During his masters, he was a DAAD Research Scholar in the Vodafone Chair Mobile Communications Systems, Technische Universitat Dresden, Germany, from 2014 to 2015, where he worked on channel estimation schemes for GFDM. He has won the Best Paper Award in the 4th International Workshop on Smart Wireless Communications, 2017, Rome, Italy. He is the main inventor of 4 patents and the author of several journals and conference publications.
---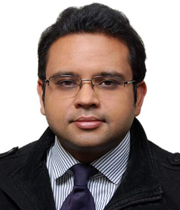 Abhijit Mitra
Research Interests - Elastic Optical Networks, Passive Optical Networks -Access Networks, Visual Light Communication, Free Space Optics , Quantum Key Distribution over fiber.
Bio - He has done his Ph.D. in Elastic Optical Networks (EON), from IIT Delhi under the funding of British Telecom. He was awarded British Telecom Fellowship to pursue his Ph.D. and has been working with the Optics Research Group at BT since 9 years while being a member of British Telecom Global Research and Innovation program. His research findings lead to low Link Margin operation that has been widely cited by industry (Nokia Bell Labs and Infinera) and the results of physical layer models matched the Superchannel parameters during the world's first field trial of 1.4 Tbps conducted by researchers at BT. His research work has been making disruptive contributions towards the broadband telecom infrastructure and he has been awarded British Council Professional Achievement Award, 2019 and reputed Fulbright Postdoctoral Research Fellowship 2019 by USIEF. Dr. Mitra has been awarded research grants by DST, Govt. of India to work on developing highly sustained broadband infrastructure for the country. He has joined the VLC group of Prof. Anand Srivastava to develop last mile cost effective solution for National Optical Fiber Network (NOFN) which connects 2,50,000 Gram Panchayats of India. Earlier Dr. Mitra has done his MS in Broadband Wireless and Optical Communication from University of Leeds, 2010 and worked with Dr. Andrew Kemp in WSN Labs, University of Leeds as a Research Associate.
---
Research Students
Ph.D.
Mansi Peer
Wireless Networks based on user mobility
Mohammad Hamza
Intelligent Reflecting Surfaces (IRS)
Anand Singh
Indoor Positioning using Visible Light Communication
Gurinder Singh
Optical Communication and Wireless Communication
Khagendra Joshi
Intelligent Reflective Surfaces(IRS)
Akshita Gupta
FiWi network performance analysis
Rahul
Solar panels as a receiver in optical wireless communication
Priyanka Singh
Optical Communication and Wireless Communication
Dil Nashin Anwar
LiFi 4 IoT
Rizwana Ahmad
Hybrid LiFi-WiFi
Saswati Paramita
Physical and MAC layer of LiFi network
Rana Kumar Jana
Elastic Optical Networks in Multi-band Scenario
Rehana Salam
Underwater Communication
Kanak Lata
Optical wireless communication with IRS
Saumya Chaturvedi
M.Tech. / B.Tech. / Interns
Sana Ali Naqvi, M.Tech., IIIT-Delhi
Vaibhav Bhatt, M.Tech., IIIT-Delhi
Arnav Yadav, M.Tech., IIIT-Delhi
Mehreen Zargar, M. Tech., IIIT-Delhi
Dhanushi Gupta, M.Tech.
Tathagat Pal, B.Tech
Sameer Anis Dohadwalla, B.Tech, IIT- Dharwad
Nikhil, Intern, BITS Pilani
Halwai Sakshi Gupta, Intern
---
Research Engineer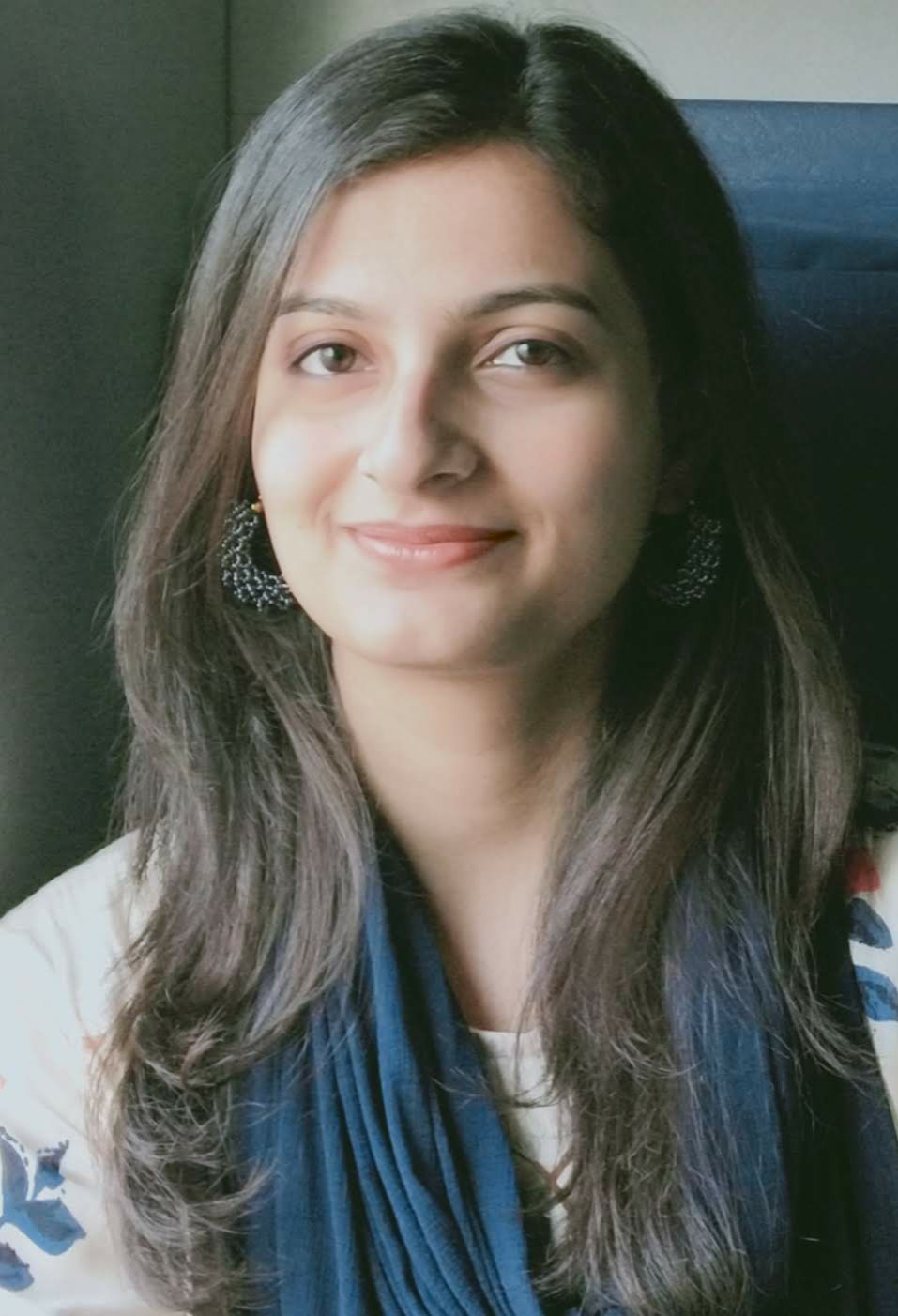 Sana Ali Naqvi
Event & Website Coordinator